>> Friday, February 20, 2009
Howdy folks! The
Oscar night
is approaching and everyone around is wondering about the blast at the
Oscars
. I am excited because I want to know what kind of
jewelry
these
Hollywood Celebrities
wear to make a fashion statement. Every year at the
Oscar Awards
we see a new blend of
Jewelry
and and clothing worn by the
Hollywood celebrities
. How attractive and enchanting it looks when we see a trophy held in hands beautifully decorated with
jewelry
. Its even more jaw dropping when we hear about the cost of these evenly assets these
celebrities
have access to.
You must have noticed that
celebrities
never repeat the clothes and
jewelry
they wear to the Red Carpet. This means that they must be shopping every now and then, and so what do they do with their older stuff when they don't repeat it, and how do they manage to shop for every event. Many questions arise in our minds right? But in reality these
celebrities
can afford to buy a new dress and
jewelry
for every occassion, but they don't require to.
Jewelry designers
, fashion designers and dealers, in order to advertise for their beautiful and expensive belongings, loan them to the
celebrities
. They design an inventory for a specific event and then ask a
celebrity
to choose from that inventory. Designers are few but the stars are many, So, one designer has to work with multiple stars, thus they need to be careful not to duplicate an item.
These clothes and
jewelry
are also auctioned after they have been worn by a
Celebrity
, for the purpose of earning money. The company's designs a worn by an award winner, then this counts to the company's credit. All the
jewelry
and clothes worn by that award wining
celebrity
would show off in close ups and will get a lot of attention, that time as well as for the coming years too. Earlier the
jewelry designers
had problems retrieving their
jewelry
pieces given to the
celebrities
on loan. The reason being that the
celebrities
had some confusion, regarding the return of the
jewels
. So now most the companies have started taking signature of the
celebrities
so that they are informed much in advance that the
jewelry
is on loan and not gifted.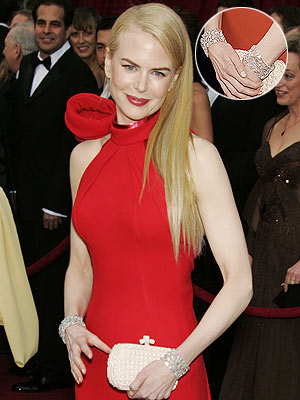 People involved in this profession include names like
Michael Katz
,
Harry Winston
and
New Yorker Fred Leighton
.
Michael Katz
is a Beverly Hills jewelry designer and dealer. He is popular among stars because he has the ability to intuitively match people with
jewels
. Harry Winston's company has a history of association with
celebrities
. It is a company associated with the
celebrities
from its beginning. So its a usual brand for the
celebrities
. The New Yorker Fred Leighton is the same company whose
rings
can be seen on the right hands of the ladies of the famous series
Sex and the City
. There are other less famous designers also who are represented too.
In the next post I would divert your attention to the
jewelry
worn by
celebrities
in the past few years, at the
Oscars
.